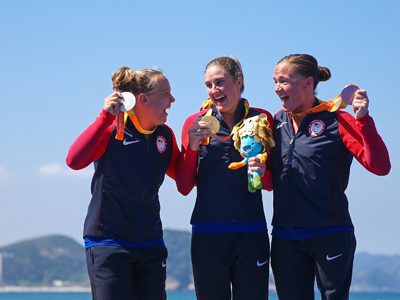 Allysa Seely made history at the 2016 Paralympic Games when she became the first gold medal winner in the PT2 women's triathlon, an event that debuted at the games this year.
Plans to bring the triathlon to the Paralympics have been in the works for 15 years. Finally, in 2016, there were enough athletes who qualified for the event.
Hailey Danisewicz, Allysa Seely, and Melissa Stockwell — Team USA dominated the winner's podium. Photo by Buda Mendes/Getty Images.
On Sept. 11, 2016, Seely finished the triathlon — which consists of running, biking, and swimming — with a time of 1 hour, 22 minutes, and 25 seconds. Two of her fellow teammates, Hailey Danisewicz and Melissa Stockwell, came in close behind her to score second and third place.
It was a monumental moment in shattering the notion of what people with disabilities can or can't do.