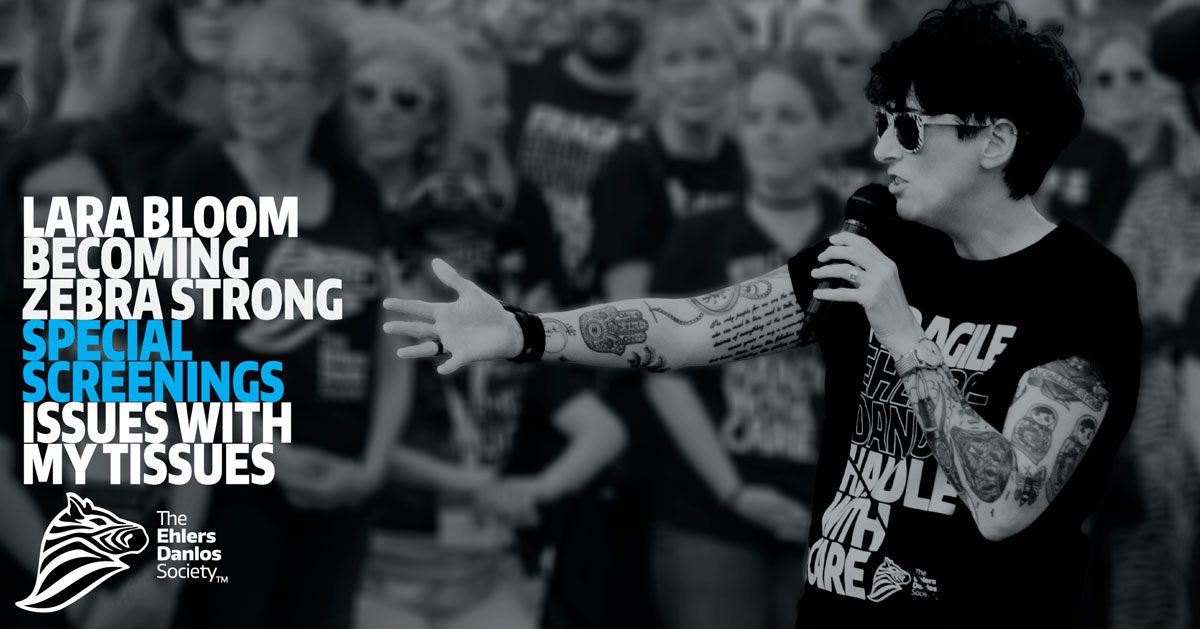 Join Lara Bloom, International Executive Director of The Ehlers-Danlos Society, on a special screening tour of "Issues With My Tissues" hosted by our US Affiliates from Providence, Rhode Island to Los Angeles, California. All events are free and open to the public.
"Issues with my Tissues" follows Lara's journey as she trains to become the first person with EDS to walk the London Marathon in 2011 at the age of 31, despite having barely walked more than three miles at a time before in her life. This moving, informative documentary features interviews with medical professionals, families with EDS, and individuals who have suffered from misdiagnosis.
Lara will answer questions and discuss how to become "zebra strong" in the face of EDS, HSD, and a myriad of related symptoms and associated conditions.
Please RSVP for these events here.
---
SAN FRANCISCO METRO AREA
Tuesday, October 9th
7:00 PM to 9:00 PM
5353 Betsy Ross Dr.
Santa Clara, CA
Wednesday, October 10th
7:00 PM to 9:00 PM
Ed Roberts Campus
Osher BC
3075 Adeline Street
Berkeley, CA
Please note:
The ERC is a fragrance free building. Please refrain from wearing perfume, aftershave, scented lotions, fragranced hair products, and/or similar products.
The ERC is located at the Ashby BART station. Guests are encouraged to use public transportation.
---
LOS ANGELES  METRO AREA
Thursday, October 18th
4:30 PM to 6:00 PM
Laemmle Claremont
450 W 2nd Street
Claremont, CA
---
MARYLAND
Tuesday, October 23rd
7:00 PM to 8:45 PM
Miller Branch Library
Ellicott Room
9421 Frederick Rd
Ellicott City, MD
---
WASHINGTON, DC
Thursday, October 25th
6:30 PM to 8:30 PM
Tenley-Friendship Library
Second Floor Large Conference Room
4450 Wisconsin Avenue, NW
Washington, DC
---
NEW YORK CITY
Tuesday, October 30th
6:30 PM to 8:30 PM
92nd Street Y
2nd Floor, Room S252
1395 Lexington Ave
Manhattan, NY
Note: This is not a 92Y program, so please do not contact them for questions
---
RHODE ISLAND/SOUTHERN MASSACHUSETTS
Sunday, November 4th
4:00 PM to 6:00 PM
Bell Street Chapel Unitarian Church
3 Bell Street
Providence, RI
For more information, contact Carissa Hocevar
---
UCKFIELD, EAST SUSSEX, UK
Wednesday, November 21
7:00 PM
Temple Grove Care Home
Herons Ghyll
Uckfield
East Sussex TN22 4BY UK
---
SYDNEY, AUSTRALIA
Wednesday, December 5
6:00 PM
Ultimo Community Centre
40 William Henry Street
Corner Bulwara Road
Ultimo NSW 2007