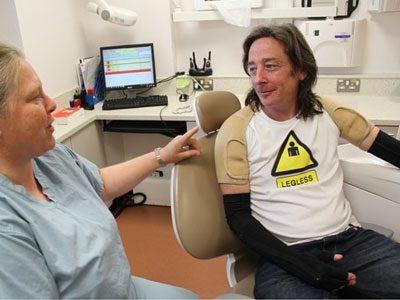 PRAISE: Gill Greenwood with Anthony Hart, who has Ehlers-Danlos syndrome
HE endured terrible trauma as a child every time he sat in the dentist's chair.
With an undiagnosed medical condition affecting anaesthesia, no-one believed Anthony Hart when he told them the pain-numbing injections didn't work.
Eventually diagnosed with Ehlers-Danlos syndrome, a rare condition affecting the connective tissues supporting the skin, blood vessels, internal organs and bones, and joint hypermobility, Anthony, 44, was referred to Gill Greenwood and her special care dentistry team two years ago.
"When I went to an ordinary dentist, the injections they gave to numb the pain didn't work and I felt everything they were doing," said Anthony, who lives in Cottingham. "So, I stopped going and I lost my teeth and the ones that were left became rotten.