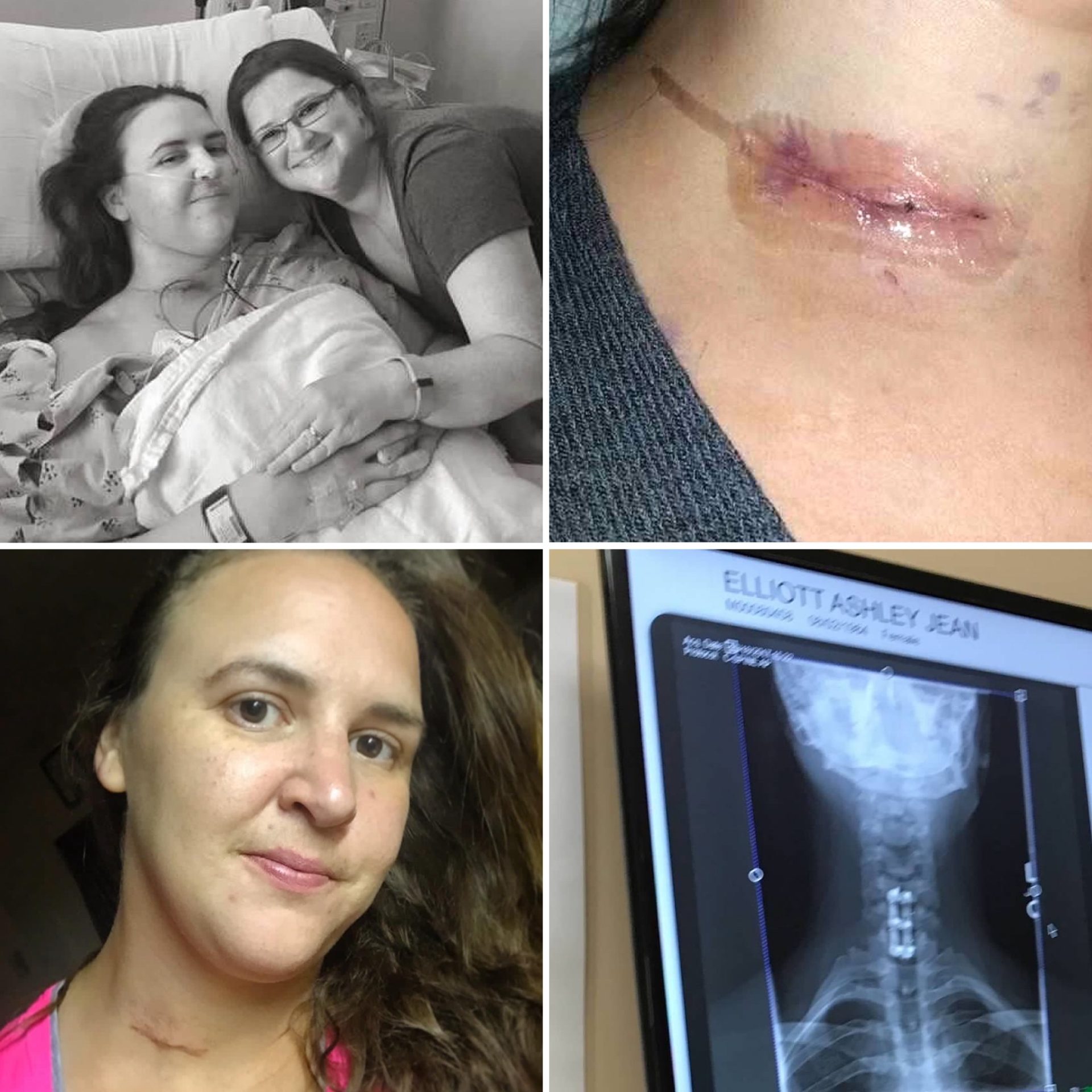 As a kid, I had this party trick where I could push my index finger to the point it would lay on the back of my hand. Everyone would always say, 'Oh so you're double-jointed'?! I always responded with, 'No, just flexible'. Then it proceeded into my teenage years in sports. During basketball and soccer, my ankles constantly rolled which required constant taping.
Once I started track and competed in the long and triple jump, it progressed to dislocations of my knees. I found out I had patellar tracking disorder and refused surgery so I could continue my time in sports. After graduating, life got crazy, and I stopped paying attention to what my body was saying.
At the ripe age of 25 though, I started with a variety of health issues that varied from neck and shoulder pain, a feeling of fullness in my head, loss of bladder control, foot drop, and loss of feeling in my hands leading to severe burns and fainting spells to name a few.
I started seeking medical help only to be disregarded as a hypochondriac 'pill seeker'. After multiple tests, self-cathing twice a day to retrain my bladder and multiple other failed treatment, I found my Angel in the disguise of my neurologist, who had treated my dad for over 10 years. Within a few minutes of meeting him, he referred me to a neurosurgeon with a fear of me becoming paralyzed due to severe kyphosis that nearly had my spinal cord pinched off. Within 30 days I was under the knife having an ACDF (anterior cervical discectomy w/ fusion) at 2 levels. Previous imaging showed kyphosis at the age of 16. I didn't find my neurologist until the age of 32.
The spinal cord damage that was done over 16 years was causing my bladder dysfunction and other health issues. Shortly after that, I suffered a pelvic organ prolapse (I have no children) and the process of receiving my hEDS diagnosis began. I now have my geneticist, cardiologist, gastroenterologist, neurologist, neurosurgeon, orthopedist, urologist, and my amazing PCP just to name a few tracking all of my health concerns, including adjacent disc disease from my fusion just 6 short years ago.
I have since applied for and received a Proclamation from The State of Maryland to acknowledge May as Ehlers-Danlos Awareness Month to spread awareness of a genetic disorder that has changed my life in so many ways.
Currently, I am seeking treatment at Johns Hopkins University for a Midgut Malrotation along with Heterotaxy Syndrome due to Polysplenia and Azygous Continuation with the absence of the hepatic portion of my IVC. It's amazing to me the amount of time EDS has had me at a doctor's or emergency room with absolutely no resolve or answer to the reason I was there. If it wasn't for my own perseverance, ability to stand up for myself, and knowledge of what my body was telling me, I would still be the hypochondriac 'pill seeker', instead of the EDS and Malro Warrior, I am today. So, if you've read this far, my advice to you is NO MATTER WHAT do not let someone tell you you're a horse, when in fact… you may be a zebra!