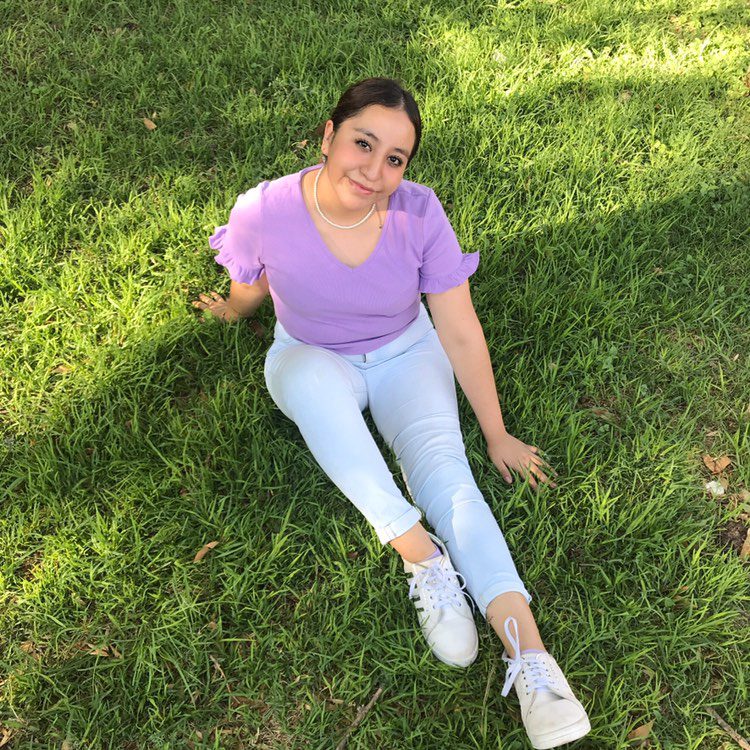 Hello, my name is Maki and I would like to tell you my story.
Months before my birth, some health professionals agreed that I was born with a syndrome and they believed that it would be Down Syndrome. A year after my birth I began to present with the first symptoms. My mom always remembers that I took her leg and wouldn't stop crying, I had a lot of bruises. I kept having a few more symptoms, couldn't walk or hold myself up, but mostly there was a lot of pain.
I was diagnosed with vascular Ehlers-Danlos syndrome (vEDS) at age 4, after genetic testing and thousands of visits with different specialists at a military hospital. This makes me feel privileged because in many cases, vEDS patients are identified after a serious complication or death.
Sometime after being diagnosed, I was able to walk on my own at the age of 6. I had been in a wheelchair for the previous two years. As I got older, the pain became more and more disabling. I had a hard time understanding what was happening to my body. I started having some common comorbidities in EDS like postural orthostatic tachycardia syndrome (POTS), mast cell activation syndrome (MCAS), and more.
All health professionals always mention that having vEDS means having to count our lifetime since the main cause of death is arterial dissection. However, that doesn't stop me. Death is not scary. My fear is living a life I'm not proud of.
I have lived a life full of pain. I have been sick and dying in life. I have had to deal with serious complications that have put my life at risk. I have cried because I am about to give up and yet I am proud of my life. We must learn that someone who is born with a chronic illness or is likely to be ill for the rest of their life can still live a life they are proud of.
We have believed that we will never be as happy as normal healthy people, but happiness is not tied to how healthy we are. Health is just a tool for us to do something in life that we are proud of. And I, without realizing it, gradually began to live that life that I am proud of. I started to become an activist and an advocate because we all have something to share because there is probably someone who fights as much as you do.
Spanish
Hola, mi nombre es Maki y me gustaría contarte mi historia.
Meses antes de mi nacimiento, algunos profesionales de la salud coincidieron en que nací con un síndrome y creyeron que sería Síndrome de Down. Un año después de mi nacimiento comencé a presentar los primeros síntomas. Mi mamá siempre recuerda que le tomé la pierna y no paraba de llorar, tenía muchos moretones y a veces perdía los zapatos por el dolor.
Seguía teniendo un poco más de síntomas, no podía caminar ni sostenerse, pero sobre todo había mucho dolor. Me diagnosticaron Ehlers Danlos del tipo vascular a los 4 años, después de pruebas genéticas y miles de visitas con diferentes especialistas en un hospital military. Lo que me hace sentir privilegiada porque en la mayoría de los casos, los pacientes con vEDS se identifican después de una complicación grave o la muerte.
Algún tiempo después de ser diagnosticada, pude caminar sola a la edad de 6 años, ya que ella había estado en silla de ruedas durante los 2 años anteriores.
A medida que fui creciendo, el dolor se volvió más y más incapacitante. Me costaba entender lo que le estaba pasando a mi cuerpo. Empecé a tener algunas comorbilidades comunes en EDS como POTS, MCAS y más.
Todos los profesionales de la salud mencionan siempre que tener el tipo vascular significa tener que contar el tiempo de vida, ya que la principal causa de muerte es la disección arterial. Sin embargo eso no me detiene.
La muerte no da miedo. Mi miedo es vivir una vida de la que no estoy orgulloso. He vivido una vida llena de dolor. He estado enfermo y muriendo en vida. He tenido que lidiar con complicaciones graves que han puesto en riesgo mi vida. He llorado porque estoy a punto de rendirme y, sin embargo, estoy orgullosa de mi vida.
Debemos aprender que alguien que nace con una enfermedad crónica o que es probable que esté enfermo por el resto de su vida aún puede vivir una vida de la que se sienta orgulloso.
Hemos creído que nunca seremos tan felices como las personas sanas normales, pero la felicidad no está ligada a lo saludables que somos. La salud es solo una herramienta para que hagamos algo en la vida de lo que estemos orgullosos.
Y yo, sin darme cuenta, poco a poco comencé a vivir esa vida de la que estoy orgullosa. Y comencé a convertirme en activista y defensora porque todos tenemos algo que compartir porque probablemente haya alguien que luche tanto como tú.