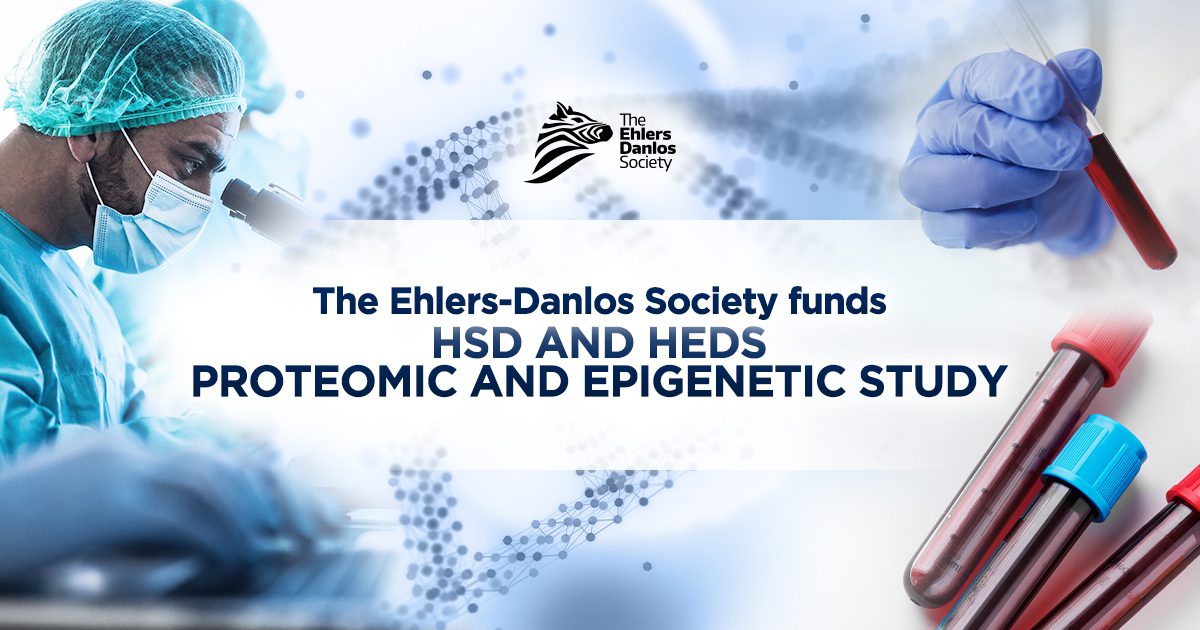 The Ehlers-Danlos Society is funding a series of vital research studies to further the understanding of hypermobile Ehlers-Danlos syndrome (hEDS) and hypermobility spectrum disorders (HSD), with the goal of finding the underlying causes for these conditions, as well as developing diagnostic tests. This falls under our GAP Research priority – looking into the genotype and phenotype of individuals living with these conditions.  
To this end, we are delighted to announce $400,000 towards a new comprehensive study of blood and DNA in individuals with HSD and hEDS. This study, made possible through the generosity of donors, is enrolling fifty people with a diagnosis of hEDS and fifty people with a diagnosis of HSD to examine levels of blood proteins, epigenetic marks on DNA, and DNA sequence.  
This will be the largest, most comprehensive examination of blood protein levels to date and may provide insights into the nature of the disorders as well as possibly advancing diagnosis and treatment.  
Additionally, the study will examine the way DNA is "marked" in people with hEDS and HSD.  These chemical (epigenetic) marks on DNA serve as an additional layer of information controlling the expression of genes and could be involved in causing these conditions. This will be the first study of such epigenetic marking of DNA in hEDS or HSD.  
The individuals with hEDS participating in this study are part of the Hypermobile Ehlers-Danlos Genetic Evaluation (The Ehlers-Danlos Society's HEDGE research study) and have had whole-genome sequencing, providing the third component of the study.  
The HSD participants, in addition to having protein and epigenetic analysis, will also undergo whole-genome sequencing. 
We are delighted to be collaborating with the following people on these studies:  
Dr. Chip Norris, Medical University of South Carolina – Proteomics

 

Dr. Clair Francomano, IU Health

IU University –

Proteomics

 

Dr. Bekim

Sadikovic,

Western University –  Epigenetics

 

Dr. Joel Hirshcoen, The Broad Institute of MIT and Harvard, and Dr. Christina Laukitis,

Carle Urbana on Windsor

– Whole Genome Sequencing analysis

.

 
Participants will be selected from The Ehlers-Danlos Society's EDS and HSD Global Registry and Repository. At this time we are not inviting people to apply if you are not already on the Global Registry, but we will keep you updated when we will be re-launching our registry so you can take part in future research.