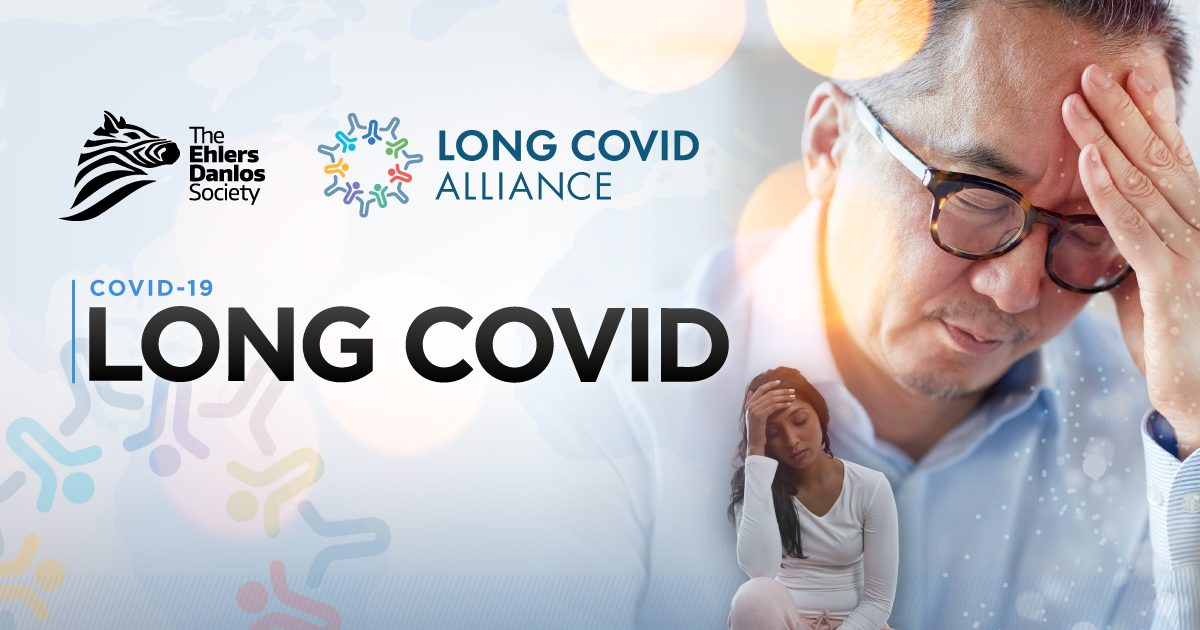 The Ehlers-Danlos Society is delighted to have joined the Core Steering Committee of the Long COVID Alliance, a network of patient advocates, scientists, disease experts, and drug developers who have joined together to leverage their collective knowledge and resources to educate policymakers and accelerate research to transform our understanding of post-viral illness.  
Their goal is to transform the current understanding of Long COVID and related post-infectious illnesses such as myalgic encephalomyelitis/chronic fatigue syndrome (ME/CFS), postural orthostatic tachycardia syndrome (POTS), other forms of dysautonomia, Ehlers-Danlos syndrome (EDS), hypermobility spectrum disorder (HSD) and mast cell activation syndrome (MCAS), autoimmune diseases and other related illnesses. 
What is Long Covid? 
Some people continue to experience the ongoing effects of COVID-19 months after they have recovered from the acute phase of the infection. The term Long COVID or Long Haul COVID is used to describe this.   
One study (Carfi A et al, 2020) of 143 patients hospitalized with COVID-19 infection found that 32% continued to experience one or two symptoms 60 days after the onset of COVID-19, and 55% had three or more symptoms. These symptoms included fatigue (53%), difficulty in breathing (43%), joint pain (27%), and chest pain (22%). The study found a worsened quality of life in 44% of patients. Other studies are finding similar results. 
The development of symptoms after an infection is not a new phenomenon. 'Post-viral fatigue' is a recognized disorder that may resolve after several weeks to months. The chronic symptoms and significant functional impairment of ME/CFS may be triggered or worsened by infection. 
Many people in the HSD and EDS community will already have the symptoms described in "Long COVID" without ever having had COVID-19. A very recent survey of The Ehlers-Danlos Society's Global Registry showed (from 1340 responses) that even prior to COVID-19's appearance 98% of people had joint pain and chronic fatigue and 74% had breathing difficulties.  
Who is the Long Covid Alliance? 
In 2020, twenty-one science, post-viral disease, and patient advocacy organizations came together to call for urgent government investment for Long COVID research. This successful effort laid the foundations of the Long COVID Alliance (LCA), now comprised of 50 organizations and 76 individuals, and growing each day.  
The LCA joined together to address the issues brought to the forefront by Long COVID, which has highlighted many challenges in science, research, and healthcare. We can only face these challenges by working together. The LCA builds inroads among patient communities, industry, scientists, and healthcare providers from multiple fields and disciplines. 
The LCA helped secure $1.15 billion for Long COVID research and clinical trials, with an additional $100 million specifically used for the Rapid Acceleration of Diagnostics.  
The LCA continues to put pressure on Congress to allocate resources and funding to organizations researching Long COVID — to build on the momentum of the $1.15 billion Congress approved for Long COVID research and clinical trials, the LCA submitted a letter to the National Institutes of Health, or NIH, with recommendations for future NIH initiatives related to Long COVID. 
Many doctors and scientists specializing in Long COVID-related illnesses have already developed promising findings and research outcomes related to post-infection and viral-triggered long-term illnesses that could be applied to Long COVID scientific and medical efforts. In light of the current state of the literature and data on Long COVID, the LCA also recommended NIH prioritize promising areas of research including:  
Origins of Post-Infection Autonomic Dysfunctions and related symptoms, like POTS, post-exertional malaise, and other biological mechanisms behind relapses 

 

The role of connective tissue disorders in post-infectious sequelae 

 

Genetic research, including whole genome sequencing and gene expression

 

Nutrient absorption and related gastrointestinal inflammation

 

Energy production and metabolism at a cellular level

 

Longitudinal studies of new Long-COVID patients that include other chronic illness patients as controls, specifically targeting immune cell exhaustion, NK cell count and function, and neutrophil behavior 

 
 To learn more, please visit  longcovidalliance.org