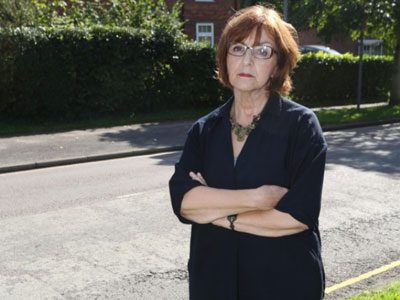 A 67-year-old disabled woman from Valley Road, Welwyn Garden City, has objected to plans to build a pedestrian crossing outside her home.
The crossing is being constructed after a successful campaign from parents of Ashcroft School pupils, who were concerned about cars speeding down the road and endangering children walking to and from school.
Laura Pymer, who suffers from Ehlers-Danlos syndrome, which affects the body's connective tissue, said she will no longer be able to park outside her house after the crossing is finished. Mrs Pymer has lived in the house for 24 years.
She said: "I have been informing the council for weeks that the crossing denies disabled access to my house.
"My drive is at the back and it's on a slope. The slope puts a lot of pressure on my legs. My gate is on the flat but the zebra crossing will have zigzag lines so I can't park there.
"Sometimes when I've got a lot of shopping I've got to carry it on the flat. If I ever needed a wheelchair I would not be able to get from my car to my house.
"There's no disabled access full stop for visitors or future buyers. You don't have to be disabled to live in a house that has disabled access.