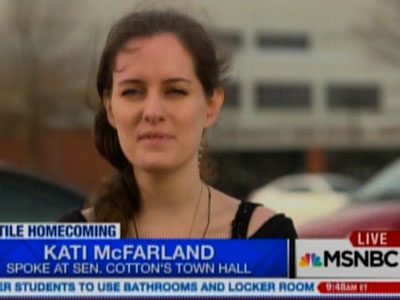 A woman who confronted Sen. Tom Cotton (R-AR) at a town hall Wednesday over Obamacare slammed the senator for brushing off her question during an interview with MSNBC Thursday morning.
Kati McFarland, a woman who has Ehlers-Danlos Syndrome, a group of disorders that affects the skin, joints and blood vessels, gave an impassioned plea to Cotton on Wednesday night.
"Without the coverage for pre-existing conditions, I will die. That is not hyperbole, I will die," she told him.
When McFarland asked Cotton if he would commit to a replacement for the Affordable Care Act before it is repealed, he quickly moved on, seeming to ignore her question, a move that elicited loud boos from the crowd.
McFarland told MSNBC that she was disappointed by Cotton's reaction.