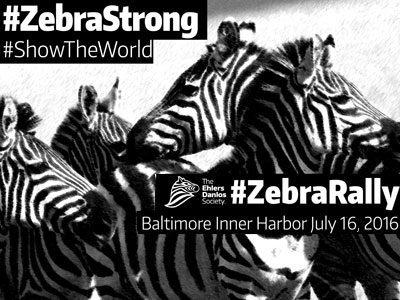 #ZebraStrong! The Ehlers-Danlos Society to Hold Rally in Baltimore's Inner Harbor to Promote Awareness of Genetic Disorder Ehlers-Danlos Syndrome (EDS)
The Ehlers-Danlos Society will host #ZebraStrong, a rally in Baltimore's Inner Harbor to build awareness for Ehlers-Danlos syndrome, an often painful and disabling, yet highly underdiagnosed and misdiagnosed genetic disorder, at 4:30pm on Saturday, July 16. The rally will immediately follow the Society's Global Learning Conference which will be held at the Hilton Baltimore July 14-16.
Over 500 attendees are expected at the conference, and many will take part in the rally, which is open to the public.
The rally will be attended by people living with Ehlers-Danlos syndrome from around the globe, as well as their families and friends. Local elected officials and key EDS medical experts will be present to make remarks, and several EDS patients will share their stories.
The rally is being dubbed "Zebra Strong" because the zebra is the unofficial mascot of the EDS community—and the identity of The Ehlers-Danlos Society.
In medicine, the term "zebra" is used to describe a rare disease or condition and the majority of the types that make up the Ehlers-Danlos syndromes are rare. For many, many decades, physicians have been taught, "When you hear hoof-beats, think horses, not zebras." Many in the Ehlers-Danlos community believe this aphorism has impeded diagnosis of Ehlers-Danlos and other rare diseases by discouraging many physicians from making diagnoses of rare or unusual disorders, particularly Ehlers-Danlos.
"In claiming the zebra as our identity, we are saying it's our time to fight for early diagnosis, greater research funding, and a stronger community to voice our concerns," states co-executive director Lara Bloom.
"People with Ehlers-Danlos have been overlooked for too long. Lack of awareness and understanding is literally costing lives throughout the world."
"We are tired of waiting. Too many are disabled, disillusioned, or dying. This is our time to take action. We want the world to understand the suffering Ehlers-Danlos causes and the need for greater awareness, expanded research, earlier diagnosis, and better treatment — worldwide," states co-executive director Lara Bloom.
"This is a movement. To cut through the noise in an election year, we are taking our cause to directly to the public. Through patient testimonies, interactive experiences, and our media campaign, we seek to build real, first-hand awareness across the U.S. and throughout the world," says Shane Robinson, Maryland Assembly person and fellow co-executive director of The Ehlers-Danlos Society.
Lara Bloom adds, "#ZebraStrong will be a demonstration of our hope, our strength, and our resolve to show the world that while we are stronger than our ailments — and we are unwilling to let our pain steal another moment from our lives. Our pain is real, relentless and demanding of treatment wherever we live in the world!"
Ehlers-Danlos syndrome is a collection of heritable connective tissue disorders characterized by hypermobile joints (joints that move in greater amounts than expected), skin involvement, and tissue fragility. Individuals with EDS have a defect in their connective tissue, the tissue that provides support to many body parts such as the skin, muscles, and ligaments. Either directly or indirectly, EDS is known or thought to alter the biology of collagen, the most abundant protein in the body, which can lead to multi-systemic symptoms. Collagen is a protein, which acts as a "glue" in the body, adding strength and elasticity to connective tissue. Depending on the individual, the severity of EDS can vary from mild to life-threatening.
For more information on the rally, please contact Anna Haber.