Angela Hunter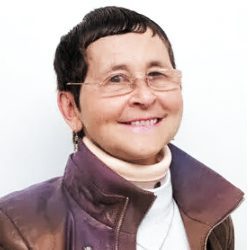 After considerable difficulties (due to EDS) to be accepted for training Angela spent all but 40 years working as a speech and language therapist. Many of these years were spent with children and adults with complex and progressive disabilities. Having attended the very first meeting held in the UK for people with EDS some 30 years ago Angela has been a trustee for EDS UK ever since. A frequent flow of questions from members and conference delegates in regard to whether their swallowing problems, their children's delayed articulation and problems with voice were connected to the presence of EDS followed. This resulted in Angela surveying the members of EDS UK and HMSA in the late 1990s and early 2000's to discover that there was probably a link. Since these time she has continued to liaise with a speech pathologist in the USA.
Angela is now retired but continues to sit as a trustee of EDS UK and also advises both members and professionals in regard to the various speech and language therapy related issues which can present themselves within EDS and HSD's. Since retiring Angela has become very active in the area of Patient Participation Engagement and Experience currently sitting on her clinical commissioning groups relevant steering committee and chairing her GPs practice Patient Participation Group.
To relax and restore herself Angela enjoys knitting, eating out, live music and travelling.