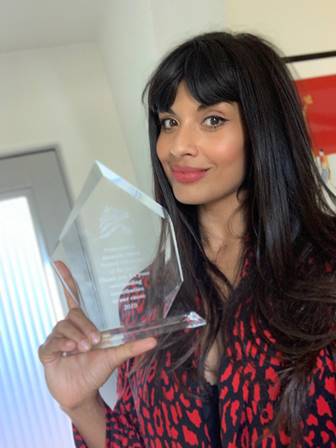 The Ehlers-Danlos Society was proud to present Jameela Jamil, British actor and activist, with the Patient Advocate of The Year award tonight, at its Global Learning Conference in Nashville. 
Accepting the award via video link, Jameela thanked The Ehlers-Danlos Society for recognizing her with the award, and for welcoming her into their community:
"I am sorry it took me so long to speak publicly about my condition. I think I was afraid of being discriminated against, and I think I feel, I felt, discouraged by how little information there is about it publicly, and still how little research is being done around this condition.
"It's terrifying how many doctors still haven't heard of it, and it's been around for a very long time. So many people have it, and so many more people than we realize as they don't know the symptoms, because the symptoms aren't being discussed on mass." 
"The Good Place" star confirmed she has Ehlers-Danlos syndrome (EDS) in a comment on Instagram in February of this year. "I hope to do my part to raise awareness and encourage more research, and more science, around discovering how we can support people of this community," stated Jameela in her acceptance video. 
The Ehlers-Danlos Society is grateful to Jameela for raising awareness of Ehlers-Danlos syndromes and hypermobility spectrum disorders and life with a chronic condition.