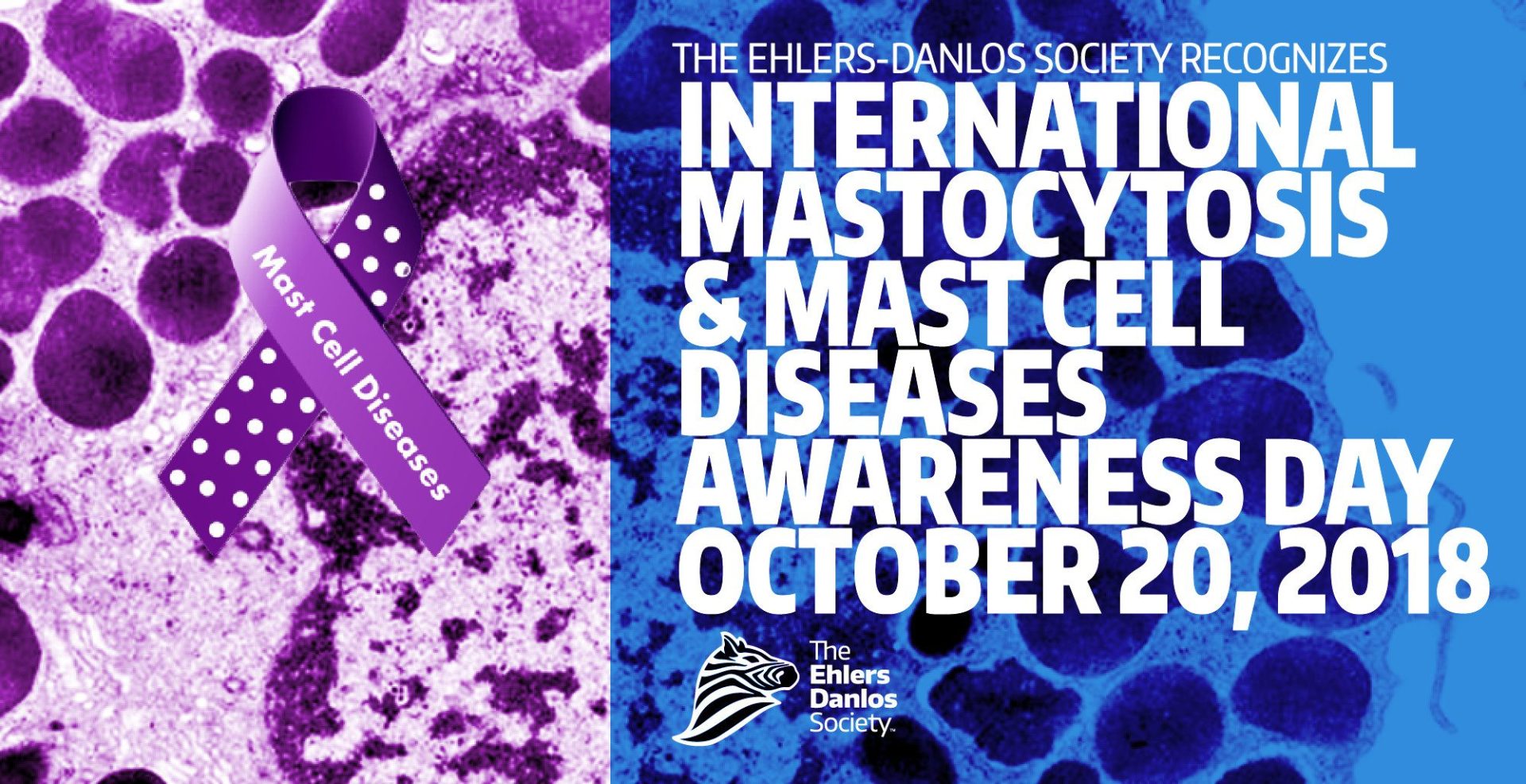 Baltimore, MD — Saturday, October 20th marks the first ever International Mastocytosis and Mast Cell Diseases Awareness Day. Established by a collaborative partnership of 24 mast cell disease advocacy groups, Mast Cell Awareness Day seeks to empower patients and advocates to educate their communities about this little-known, potentially disabling group of disorders that can affect individuals living with Ehlers-Danlos syndromes (EDS) and hypermobility spectrum disorders (HSD).
"The aim for awareness days is to recognize the need for accurate diagnostics, better treatments, further investments in research," states Lara Bloom, International Executive Director of The Ehlers-Danlos Society.
Mast cells and the immune system.
Mast cells play an important role in your immune system. They can become over-responsive, causing symptoms that range from mild allergic symptoms to potentially life-threatening anaphylaxis. While mast cells have been well-known to play a role in disorders and symptoms causing an allergic response, recent research suggests they also play a role in non-allergic conditions as well.
Mast cells interact with connective tissues in the extracellular matrix, which may be why individuals with connective tissue disorders such as EDS and HSD experience mast cell activation syndrome (MCAS).
Symptoms can include itching, redness, and damage to the skin, diarrhea, or pain in the abdomen among others. Common triggers of MCAS are as follows: alcohol, heat, drugs, invasive procedures (surgery, biopsy, endoscopy), insect stings, high body temperature (fever) or infection, exercise, physical contact (pressure, friction), emotions/stress.
Mast cell activation syndrome— an increasing finding in HSD/EDS
"The exact prevalence of mast cell disorders in EDS/HSD patients is unknown, and currently a focus for research. Because the presentation varies and the many symptoms can be seemingly separate from each other it can be difficult to spot MCAS straight away. It is also important that other causes of these symptoms are also considered and not missed," states Dr. Alan Hakim, Director of Education, The Ehlers-Danlos Society.
"A key aspect of treatment is to remove the trigger(s) from the environment/diet etc., but this can be very difficult to do. Drug treatments are available and should be tailored to the individual person as the ability to tolerate them and their benefits can vary considerably. The most commonly used medications include H1 and H2 antihistamines, montelukast, sodium cromoglicate, ketotifen, and in the case of anaphylaxis, epinephrine," adds Dr. Hakim.
"Some individuals in the EDS/HSD patient community living with mast cell activation syndrome tell me their symptoms are so severe that they are rarely able to interact in public spaces without experiencing a mast cell 'attack' due to exposure to common environmental triggers. MCAS can have a profound effect on the quality of life," adds Bloom. "The Ehlers-Danlos Society is proud to support research efforts into this condition and its apparent link to EDS and HSD through our collaborations with the Ehlers-Danlos International Consortium and the Comorbidity Coalition."
Learn more:
International Mastocytosis and Mast Cell Diseases Awareness Day
Mast Cell Disorders in Ehlers–Danlos Syndrome
Mast Cell Disorders in Ehlers–Danlos Syndrome (non-expert)